Contact info: Designermite@designermite.net
http://www.cafepress.com/designermite
http://www.cafepress.com/friendspolitica
Experts Agree Friends Don't Let Friends Vote Republican
http://www.geocities.com/friendspolitica
An actual email:
I am a fourteen year old boy who goes to Marple Newtown High School in Newtown Square, PA . Lately i have been seeing many people where shirts that say "friends don't let friends vote republican". My brother is a honors student who is currently a junior. He is taking 4 advanced placement course along with one other honors course. But most of all, he is currently and has been involved with the republican committee of my town for over 10 years. Well anyway, i finally saw a shirt that said "Friends don't let Friends Vote Democrat". At the bottom of it i saw your email address. So anyway, I was wondering if you could send a shirt to me so that i could give it to my brother to fight back against the liberals that are taking over my school. Please write back.
I thought it was ghost written by perhaps his dad as it is very well written, so well done that I thought I would post it so others might enjoy it.
1600 Pennsylvania Avenue NW Washington, DC 20502
Hillary Clinton for President
Click here to make money selling our stuff!
Contact info: Designermite@designermite.net
Wednesday October 3, 2007
This morning, President Bush rejected health care for children. Now it's time for Democrats to reject President Bush.
If we can get 2/3 of Congress to stand up to President Bush, we can overturn his veto on the State Children's Health Insurance Program -- a program that provides health insurance for millions of kids.
We need your help to get those votes.
We've set up a simple tool that will allow you to write a letter and send it to your members of Congress instantly. Send your Senators and Representative a message telling them to stand up to George Bush:
http://www.democrats.org/FightForKids
George Bush made a cold political calculation this morning. He could have signed this bi-partisan bill into law, or he could have pandered to conservatives who didn't want to see the Children's Health Insurance Program get the funding it needs.
He decided to pander -- and millions of kids will suffer for it.
What makes this veto worse is that George Bush will spend billions of dollars in Iraq, some of it on contractors like Blackwater and Halliburton, while denying millions of children needed doctors' visits or medicine here at home.
On top of that, all of the Republican candidates for president support his veto.
Democrats are in the majority for a reason. Send a message to your Senators and Representative and let them know why that is:
http://www.democrats.org/FightForKids
This past week, Graeme Frost, a 12 year old from Baltimore, Maryland, delivered this week's Democratic Radio Address.
Graeme is a brave young man. Three years ago, his family was in a serious car accident. Graeme was in a coma for a week, suffered severe brain trauma, and had to re-learn how to eat and walk.
Graeme is alive today because of the State Children's Health Insurance Program. As he said last weekend:
"My parents work really hard and always make sure my sister and I have everything we need, but the hospital bills were huge. We got the help we needed because we had health insurance for us through the CHIP program.

"I don't know why President Bush wants to stop kids who really need help from getting CHIP. All I know is I have some really good doctors. They took great care of me when I was sick, and I'm glad I could see them because of the Children's Health Program."
Families like the Frosts need your help. You can hear Graeme talk about his experience and send a message to your Senators and Representative right here:
http://www.democrats.org/FightForKids
As a doctor, I've seen our country's health care crisis first-hand.
I've seen parents that have to wait for their kids to get dangerously sick before they could take them to a doctor. I've seen parents struggle over important medical care decisions because they didn't know how to pay for it. And I've seen parents left in poverty because they had no other choice.
But you don't have to be a doctor to understand the importance of health insurance for our nation's kids. Just ask any mother or father whose child has been sick, and they'll all tell you the same thing: that there's nothing more important to them than making sure their kids are healthy.
As governor of Vermont, 96% of the children in my state had health insurance. That's the sort of commitment our country needs -- and the sort of commitment President Bush doesn't have.
The American people elected a Democratic majority last fall to stand up to President Bush's misguided priorities. Remind your Senators and Representative just what the American people stand for.
http://www.democrats.org/FightForKids
Sincerely,
Gov. Howard Dean, M.D.
---
Paid for and authorized by the Democratic National Committee, www.democrats.org.
This communication is not authorized by any candidate or candidate's committee.

Democratic National Committee, 430 S. Capitol St. SE, Washington, DC 20003
links:
http://www.democrats.org/DirtyTricks
The Democratic Governors' Association http://www.democraticgovernors.org/
The Democratic Senatorial Campaign Committee http://www.dscc.org/
The Democratic Legislative Campaign Committee http://www.dlcc.org/
Senate Majority Leader: Sen. Harry Reid (D-NV) http://democrats.senate.gov/
Speaker of the House: Rep. Nancy Pelosi (D-CA) http://democrats.house.gov/
DNC Chairman: Gov. Howard Dean http://www.democrats.org/
DGA Chairwoman: Kansas Gov. Kathleen Sebelius http://www.democraticgovernors.org/
DSCC Chairman: Sen. Charles Schumer (D-NY) http://www.dscc.org/
DCCC Chairman: Rep. Chris Van Hollen (D-MD) http://www.dccc.org/
DLCC Chairman: Iowa Senate Majority Leader Mike Gronstal http://www.dlcc.org/

DNC Officers
Is Stephen Colbert Breaking the Law?
How Colbert '08 could run afoul of the FEC.
Posted Tuesday, Oct. 23, 2007, at 4:21 PM ET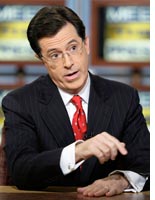 TV satirist Stephen Colbert told his audience on Oct. 16 that he would "seek the office of the president of the United States." Over the next few days, he signed papers to get on both the Democratic and Republican primary ballots in South Carolina, and he unveiled a campaign Web site. If the Comedy Central host follows through with his bid and continues to use his show for political self-promotion, does he risk violating election law?
Yes. The Federal Election Commission prohibits corporations from making "any contribution or expenditure in connection with a federal election." A "contribution" includes "anything of value," including airtime. Thus each time Colbert promotes his candidacy on The Colbert Report, he'll be accepting an illegal "in kind" contribution from Comedy Central's parent company, Viacom. The FEC does exempt news programs (including satires like the Report) from the "in kind" airtime ban, but not if a political party, political committee, or candidate (like Colbert) controls the show's content.
Viacom might also run afoul of the Federal Communication Commission's equal time rule. By law, radio and television stations must treat political candidates equally when it comes to selling or giving away airtime. There's some debate as to whether this provision applies to all television networks, or just broadcast television. Nevertheless, cable channels generally abide by the equal-opportunity guideline to avoid a precedent-setting legal case. Each of the 16 presidential hopefuls could therefore demand as much time on Comedy Central as Colbert gets—about 20 minutes a night, four days a week. Faced with a similar situation earlier this year, NBC decided to stop airing Law & Order reruns featuring Fred Thompson. The cable network TNT, on the other hand, is risking the FCC's ire by keeping its Thompson-heavy rerun schedule in tact.
Chances are the government won't commence legal proceedings unless someone files an official complaint. But if the FEC does get involved, Colbert's campaign and Viacom could face stiff financial penalties. His only safe option, therefore, is to spoil the joke by dropping out before someone complains. Back in 1994, radio host Howard Stern made a bid for the governorship of New York and discussed his agenda on-air. When it came time to disclose his finances, he rescinded his candidacy, thus avoiding legal complications.
Explainer thanks Bob Bauer of Perkins Coie LLP and Rick Hasen of Loyola law school. Thanks also to readers Nihal Patel and Dan Smith for asking the question
TV satirist Stephen Colbert told his audience on Oct. 16 that he would "seek the office of the president of the United States."
http://www.comedycentral.com/motherload/index.jhtml?ml_video=118597
Articles of interest:
The Senator Who Just Wouldn't Resign
DNC Statement on Supreme Court Decision to Hear Indiana Voter ID Case
Governor Rendell Calls on Bush to Stop Playing Partisan Politics As Usual with Health of Our Children
MD State Delegate Ana Sol Gutierrez Will Deliver the Democratic Hispanic Radio Address This Saturday
CREW Requests Stevens Be Removed From Committee Assignments
Michigan Republicans Set to Choose "None of the Above"
Senate Republicans Kill DC Voting Rights Bill
DNC Calls On Congress to Pass DC Voting Rights: No Time to Filibuster
Drill the Everglades? Thompson Says It's Not Off the Table
MUST READ: "Republican Dirty Tricks Begin"
Congressman Tom Lantos (CA-12) to Deliver Democratic Radio Address
Save the Date- DNC Chairman Howard Dean in Tokyo!
DexPat Reception with Phil Murphy in London!
Veco Briber Gives Feds Evidence on Stevens
Vermont Democrats Call For Governor To End No-Bid Lobbying Contract
Mitt Romney Wouldn't Win His Home State
Dean Renews Call on Boehner to Apologize for "Small Price" Remark, Urges '08 Republican Contenders to Hold Boehner Accountable
Boehner Claims "We" Have Paid "A Small Price" in Iraq
Lunch with Mickey Kantor in Hong Kong
South Carolina Rejecting Romney's Smooth Talk on Health Care
Statement by DNC Chairman Howard Dean on the Passing of DNC Member Karen Marchioro
Thompson's Non-Campaign Stalls, Hits a Wall Before It Can Get Started
Romney's Latest Flip-Flop: His Own Health Care Plan
Rep. Rick Renzi (R-AZ) Will Not Seek Re-Election
Vote Vets To Hold Collins Accountable
Some Electronic Voting Machines Never Certified
GOP Desperate: Distributing Fake Pictures Of Democrats
This communication is not authorized by any candidate or candidate's committee
<a href="http://www.trendmx.com/website-promotion-optimization-software/website-promotion-software.aspx" target="_blank">Web Promotion Software</a>
Click here to make money selling our stuff!
Contact info: Designermite@designermite.net